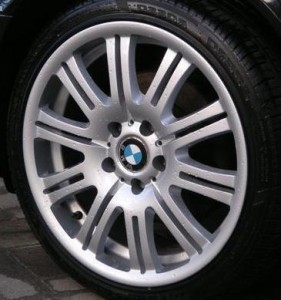 Alloy wheel refurbishment is the most cost effective way to enhance and increase the value of your car.
If you are unsure whether our alloy wheel repair service is right for you, bring your car to us for a free quotation or email us a photo of the worst wheel and we will email you back with a price.
A good car can really be let down by scuffed, tarnished and tatty wheels. Replacing an alloy wheel can cost hundreds of pounds but repairing and refurbishing them can cost a fraction of that amount.
A new looking set of wheels can really make your car look like new and for the relatively small costs involved we believe the alloy wheel refurbishment service from Autocrash offers exceptional value for money, especially if you're trying to sell your car.
We don't cut corners on our alloy wheel repair and refurbishing service, we put quality first so for the best results we refurbish the whole face of the wheel and not just the damaged rim.
Note Unfortunately Autocrash cannot restore chrome, polished metal wheels, diamond cut and split rims to their original finish, although we can put a new finish on them. We cannot repair broken and buckled alloy wheels.